Amman, JORDAN – On most weekday afternoons, you can find *Hiba working at a salon run by the Jordanian Women's Union (JWU), a UNFPA-supported non-governmental organization. At 22 years old, she's a certified beautician with a long list of loyal clients and a steady income.
"I love this salon and come here all the time to get my hair done by [Hiba]," says a woman who has stopped in for a routine blow dry. After she leaves, another woman swiftly makes her way to Hiba's chair for a makeup tutorial. It's a business and a bustling one at that.
What most of her clients don't know is that Hiba was once a child bride. At 15 years old, she dropped out of school to marry a man who was 10 years her senior. He and his family insisted that her family agree to the arrangement, and she was too young to say otherwise.
Not long after her wedding day, Hiba's husband at the time and his relatives began to control her every move – she wasn't allowed to leave the house by herself, they dictated her wardrobe, and then, when she didn't think things could get any worse, they pressured her into getting pregnant. 
"I didn't want to have a baby with him," Hiba recalls in between tears. "It wasn't my choice."
A new beginning
Three years after getting married, when Hiba was 18 years old, her husband agreed to a divorce. Her life was finally back in her own hands. She moved in with her parents and began looking for a job – something she wasn't allowed to do when she was a wife.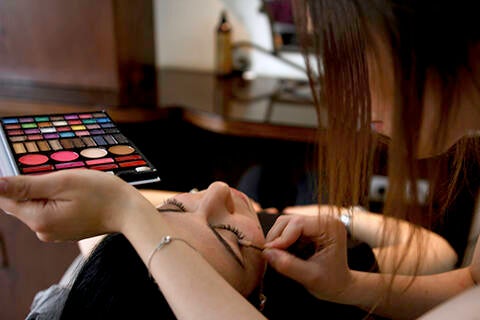 One day, Hiba's aunt encouraged her to sign up for the JWU salon's vocational training program.
Her aunt knew she had a passion for hair and makeup but that she lacked the skills to turn her hobby into a career. 
Despite feeling insecure, Hiba found the courage to walk into the salon and register for the program.
"I told the lady working at JWU, 'I'm not good enough,'" recalls Hiba. "But then I met with the salon's manager and he told me, 'Just go inside and start training.'"
It didn't take long for Hiba to excel in the three-month program. She outperformed in almost every task.
But the trauma she experienced in her early marriage, the shame she felt after the divorce, and the child-custody disputes she was having with her ex-husband were all taking a large toll on her wellbeing.
The Hotline
Hiba's troubles didn't go unnoticed – one of the salon's workers referred Hiba to the JWU Hotline, a program that provides thousands of vulnerable or abused women across Jordan with free legal, social, and psychological counseling.
Khefa Al-Jaberi, a JWU social worker who receives cases through the Hotline, remembers the first time she met with Hiba.   
"I found out that [Hiba] needed moral support to help her get used to her new life after leaving the early marriage," says Al-Jaberi. "She also needed to be reassured that divorce is not something to feel ashamed of."
Hiba isn't alone. Al-Jaberi says many of the women and girls who contact the Hotline for help are current or former child brides.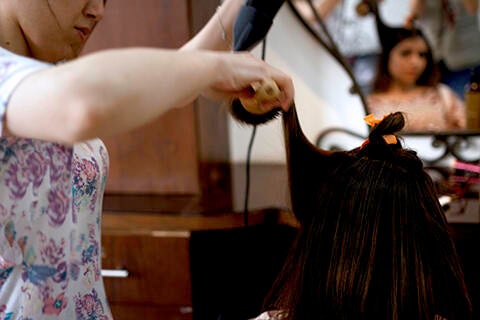 "Most of these girls are between 15 and 17 and are forced to get married by their families out of poverty," says Al-Jaberi. "Other times, they're married due to family or cultural traditions."
Standing on her own two feet
Not long after their first meeting, Al-Jaberi created a plan to help guide Hiba through the mental, emotional, and physical steps needed for her to gain confidence and rebuild her life.
They continue to see each other at least once per month.
"At first, [Hiba] would only talk about what her parents and his parents want," says Al-Jaberi. "Eventually, she started talking about what she wants."
"I used to sit in our meetings with a box of tissues because I was crying all the time," adds Hiba, "but, now, we laugh together."
Three months after entering the JWU salon training program, Hiba earned a certificate of completion and embarked on her dream career as a beautician. She's now one of the most successful and sought-after women working at the salon.
"I love this job," says Hiba, as she reveals a confident, yet relaxed, smile. "I'm finally independent."
- Elspeth Dehnert
*Name changed to protect privacy.