Ensuring reproductive rights for all
23 May 2018
Leaving no one behind: Let us commit to ending fistula now!
Statement of UNFPA Executive Director Dr. Natalia Kanem on the International Day to End Obstetric Fistula, 23 May 2018 Pregnancy and childbirth should be among the happiest of occasions in a woman's life. Unfortunately, this is not the case for many of the world's poorest and most marginalized women. Obstetric fistula, a
8 March 2017
Statement of UNFPA Executive Director
Statement of UNFPA Executive Director Dr. Babatunde Osotimehin on International Women's Day, 8 March 2017 Gender equality is a human right. Women are entitled to live in dignity and in freedom from want and fear, without discrimination. Gender equality is also vital to sustainable development, peace and security. It's not just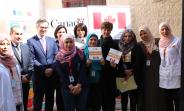 23 February 2017
Supporting the Syrian refugee crisis in Jordan through good partnership
Amman, February 23, 2017 – "Tell me what is your greatest difficulty?" asked the Minister of Development and La Francophonie Cooperation, Marie-Claude Bibeau  to a group of Syrian refugee women at a UNFPA-supported clinic in Sweileh, north of Amman today. Rachel Harder, member of the Parliament of Canada and Peter MacDougall,

UNFPA's Worlds Apart report calls for actions that lead to a brighter future, where all...

She is 10 years old. Capable of rapidly absorbing wisdom and knowledge from those around...
No vacancies currently available