You are here
Goedele Liekens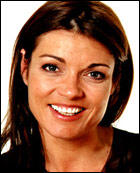 Goedele Liekens is a well-known television personality in Belgium. Her television career began in 1986. Before then, Ms. Liekens was a successful psychologist. She has made the understanding and improvement of human sexuality and relationships the focus of her professional life. She wrote the best-selling book, "69 Questions about Sex," and created a series of self-help therapy videotapes with Dutch sexologist Jelto Drenth. She has written extensively for women's magazines.
Ms. Liekens, together with Face to Face International and Belgian Partner Sensoa (formerly CGSO Trefpunt), has produced several made-for-television documentaries for UNFPA. She reported on AIDS and fistula in parts of Africa and on women in the refugee camps of Pakistan.
Based on several visits to Botswana, Ms. Liekens produced a special report for Belgian television on the HIV/AIDS crisis in Botswana.
In my television programs and articles I emphasize women's right to say 'yes' and 'no.' I help them stand up for their own sexuality and emotions. I hope to bring women and men together, living happily in equality and with respect.