ZA'ATARI CAMP, Jordan— Syrian refugees in this encampment have much to deal with: displacement, a fraying social fabric, insecurity, uncertainty and the tension that goes along with it all.
But now they have a little oasis of calm.
This week, a UNFPA-supported 'oasis' was launched at the camp, a safe space where women and girls can come together to talk about issues affecting them, and where activities such as art, craft making, skills training and awareness-raising discussions are organized.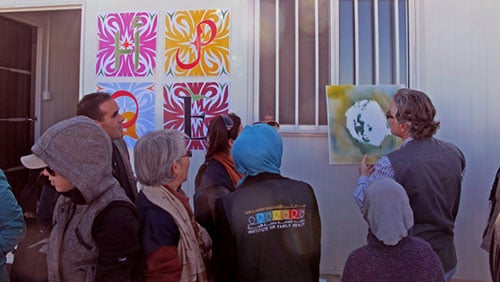 At the new centre, arts and crafts provide a creative outlet for the refugees. Photo: Alexandra Sicotte-Levesque /UNFPA
For example, the arts faculty of the American University in Madaba organized a session to teach young girls the art of spray painting. Kholoud, a young girl from the city of Da'raa, proudly displayed her work. Her home town was the starting point of the uprising in early 2011—and Kholoud was among thousands of people who fled last August as growing violence marred the city.
Many of the refugees are women with young children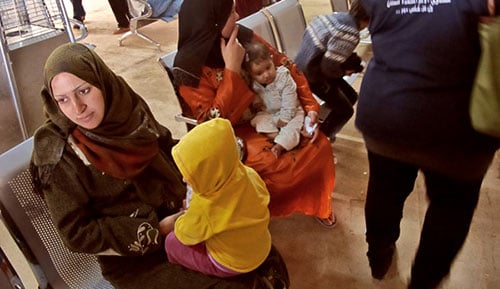 "I was sad to see the large number of women, many of them with babies, in the camp," said Mabingue Ngom, UNFPA's Programme Division Director, who attended the opening of the oasis yesterday.
"We need to prepare ourselves for a long-term response," he added. As conflict in Syria worsens, the number of refugees in neighbouring countries has dramatically increased. In Jordan alone, there are currently nearly 140,000 registered refugees, and the number may reach 300,000 by June 2013. More than 50 per cent of registered refugees are under the age of 18, and almost one-third of those refugees are single women or single heads of household.
Enduring displacement and the unravelling of the social fabrics, women carry the burden of caring for their families. Tension abounds, and relationships may fray.
"Boredom and post-traumatic stress disorder can quickly deteriorate living conditions for refugees," explained Muna Idris, UNFPA's Assistant Representative in Jordan. The oasis therefore becomes an entry point for UNFPA and its partners to help women who may have been victims of sexual violence during the conflict or facing domestic violence at home. It also offers an opportunity to address other issues, such as early marriage.
Assistance is also needed for refugees in nearby communities
In designated camps, such as this one, reproductive health care services have been well implemented. However, it has been more difficult to reach refugees living in host communities. "We need to identify Syrians living in different communities and provide more aid in urban settings," said Ms. Idris. An estimated 120,000 refugees are living in different Jordanian towns near the Syrian border, either staying with friends and relatives or renting space.
UNFPA and its local partners, such as the Jordanian Health Aid Society and the Noor al-Hussein Foundation, are working closely with other United Nations agencies to coordinate the response. Increased support from the international community will be necessary for the United Nations and its partners to scale up its response throughout the country.
The influx of refugees has put a strain on existing national health services. While UNFPA has provided training to partners and medical staff, more female doctors are needed to serve UNFPA-supported clinics.
UNFPA and the Jordanian Health Aid Society are working together to address such issues, while also increasing the provision of family planning services. "Given the circumstances, it is crucial to provide women with options and to ensure they are aware of the services available to them," explained Ms. Idris.