Following its success over the last three years, UNFPA Jordan's "Me and My Mobile" course is back for a fourth run this year. Partnering with one of the region's leading mobile telecom companies, Zain Jordan, and Noor Al-Hussein Foundation Institute for Family Health, the "Me and My Mobile" course has the empowerment of adolescent girls and women at the core of its mission.
Over two months, the course will be offered twice to two different groups of women and adolescent girls from Sweileh and Zarqa. Each course will run for 8 weeks, with each session providing training on how to use their smartphones to safely set up an email account, connect with their peers, explore online educational and employment opportunities, develop their knowledge of social media and Instagram marketing, and use period tracking app to improve their knowledge of sexual and reproductive health.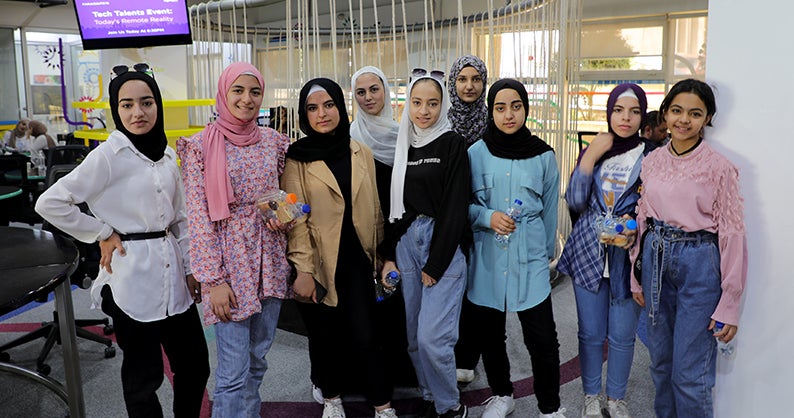 To further promote the prevention and response to gender-based violence (GBV), UNFPA Jordan has expanded the 2022 "Me and My Mobile" curriculum to include a session dedicated to strengthening the participants' awareness of cybercrimes and methods of reporting online sexual harassment. Collaborating with legal service providers, the participants will learn to use new smartphone apps to protect themselves and feel safer.
As one of the participants in the course expressed, "It is important for me to learn how to face cyberbullying on social media and share this information with other girls," Yasmine, 15 years old.
Kicking off its first session last week, the "Me and My Mobile" course aims to bridge the gap between women and adolescent girls and their male counterparts in terms of their access to and use of Information and Communication Technology (ICT) in their daily lives.
Lama Al-Sa'd, GBV Program Associate at UNFPA Jordan commented, "The Me and My Mobile course will feed into UNFPA's efforts to build skills among women and girls that go beyond traditional gender roles. Offering a new course on how to use smartphones to gather information is one way to ensure young women are connected with a set of digital opportunities to benefit them privately and in pursuing careers."