Amal is a 43-year-old Jordanian wife and a mother of three. Although her name in Arabic means "hope", yet, not too long ago, she lost all the hope she had. But today, and thanks to the UNFPA-supported services at the Institute of Family Health (IFH), Amal has restored her faith and hope back. Moreover, the services she had received have drastically changed her life for the better. Amal learned about the IFH center from her neighbors who take classes there. One day, she approached the Women and Girls Safe Space (WGSS) in Madaba - southwest of the capital Amman - and was referred to a case manager, who took her consent, reassured confidentiality, and explained to her the objectives of the case management and individual sessions. Also, the case manager introduced her to other services available at the WGSS, such as support groups, recreational activities, as well as gender-based violence (GBV) awareness-raising sessions for both males and females in addition to the youth activities they host. Furthermore, her case manager informed her about the medical services available at the clinic, such as the high-quality comprehensive Sexual and Reproductive Health (SRH) services like family planning methods, and reproductive health counseling.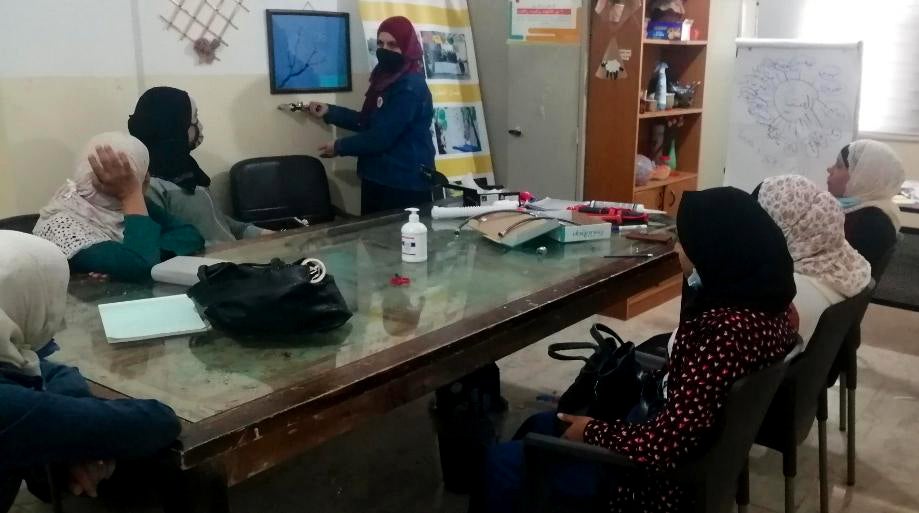 After several individual sessions, Amal felt comfortable to disclose that she was suffering from intimate partner's violence, which has affected her emotionally and psychologically. Her husband could not fend for his family due to the financial strife because of the lockdown associated with the coronavirus precautionary measures. This was a contributing factor that led her husband to pressure her and that made her constantly live under stress, in fear and anxiety. Her husband cursed and swore at her, so she felt worthless and inferior to others, which she often expressed with unexplained bursts of cries, prolonged silence, or taking her anger out on her children. Ultimately, Amal underwent 10 individual psychosocial support sessions (PSS) through the support lines at the IFH -WGSS in Madaba for 6 months.
Through these sessions, she learned problem-solving and decision-making skills. All of which made her gain back her self-confidence. Moreover, and upon completing her sessions, Amal and the case manager worked together on developing a safety plan; in order to know how to protect herself in case she faced any abuse again.
Believe in yourselves, there is nothing we cannot do!

Amal is a 43-year-old Jordanian wife
When Amal reached a state of emotional balance, one of the recreational activities program " Plumbing" was introduced to her. Amal expressed interest to participate in, with no hesitation and she completed the entire training course. Today, Amal is a woman with hope, she emits positivity and is grateful for the new perspective on life that IFH comprehensive services has given her. She met new people from various backgrounds, whom she now has good relationships with. Most importantly, she feels that she has a support circle that she can turn to whenever she needs to. Furthermore, gaining plumbing skills made her believe in herself and her potential. Amal is a self-sufficient woman who can tinker around the house, fixing and recycling things, and at the end of the day, she found herself saving some money instead of hiring a professional to do the job for her.
Amal's message to all the women who are undergoing any form of GBV is to "Believe in yourselves, there is nothing we cannot do!"
About IFH:
The Institute for Family Health (IFH) is a model of high quality and health care services to children and mothers in Jordan that was established in 1986 and is part of Noor Al-Hussein Foundation, which operates within the framework of the King Hussein Foundation. IFH improved the quality of services through introducing a comprehensive model of services, which include but are not limited to physical, mental and social health services that fall under 6 main pillars: Primary Health Care, Psychosocial Support, Youth Empowerment, Diagnosis and Rehabilitation of Disabilities, Training and Capacity Building and Outreach.
UNFPA - IFH Partnership:
Partnership between UNFPA and the IFH goes back to 2008, as UNFPA supports the foundation in three main pillars: Youth, GBV response & prevention, and SRH.
UNFPA supports 8 centers of IFH which are located in: Sweileh, East Amman, Zarqa, Deir Alla, Madaba, Karak and in 2 Syrian refugee camps (Zaatari Camp and the Emirati -Jordanian Camp).