Saba's smile can brighten a whole room, or the caravan that she shares with her family in Zaatari camp for refugees in Jordan. The 16 year old dynamic Syrian young woman lives in the camp with her mother and four siblings. Her father is in Syria.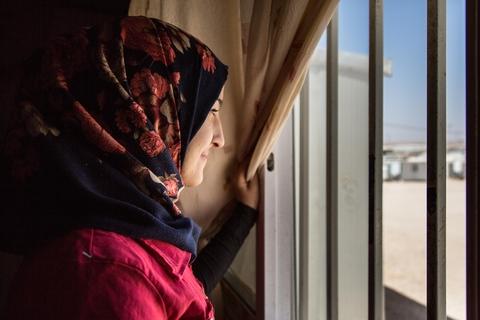 Eloquent, outspoken and lively, Saba emphatically explains her position against early marriage, regularly looking at her mother Izdihar for support between sentences. They both agree that child marriage existed in Syria prior to the war, though many Syrians say in that it was nowhere near as common as it has become "Girls back in Syria sometimes married young too, but we see it happening much more frequently here" says the mother, who got married when she was nineteen.  "I got my high school diploma then got married, but after marriage my husband and I continued to study. I waited until after I was 20 before I started having children" says Izdihar, stroking her youngest child's hair.
Taking turns and completing each other's sentences, the mother and daughter explain that social pressure and the compelling living conditions in the camp have accelerated the rate of early marriage among young Syrian girls, primarily as marrying a girl off means one less mouth to feed in a family.
"Let the girl get married, let her husband spend on her" says Saba with a sigh. "In Syria before the war, people had a plan: if you are boy, you go to school and after that you look for work and get married."
When asked about her own plans for her daughters, Izdihar is unequivocal:
"our children must get an education, the rest we will see."
"Many youngsters in the camp do not go to school because they feel they have no future, the chances of going  to university or finding a job are very slim. But several humanitarian organizations are working on allowing at least some education and we should all grab this opportunity" she says, convinced.
Saba is a very active advocate against early marriage in her community.  She gives awareness sessions to young people her age, explaining the consequences of marriage and early pregnancy on the bodies and lives of women. She enumerates the advantages of delaying marriage: getting an education, having a healthier and stronger body, finding a job that makes one feel more independent.
"A girl I know from school here in the camp got married last year when she was 15.. Now she is  a month or two pregnant. Three months ago she was pregnant with twins but had a miscarriage. I told her she should stop because her body isn't ready yet but she and her husband are adamant about having a child."
According Saba, a teenage girl can often not see beyond the wedding dress and the party. "After the party, they will no longer see their friends, they will stop going to school, they will stop playing, being creative, drawing… They will have responsibilities and start washing dishes."  For Saba, the main serious challenge is the health risk of getting pregnant at an early age when the body isn't fully developed yet. "But the saddest thing I see is physical abuse, the man being mean to his young bride."
Saba and Izdihar are among a group of active advocates against early marriage who reach out to young men and women, and to mothers and fathers, to explain to them the benefits of continuing with education and delaying married life. They are part of UNFPA's joint programmes with the Institute of Family Health of Jordan working with refugees from Syria in Zaatari camp.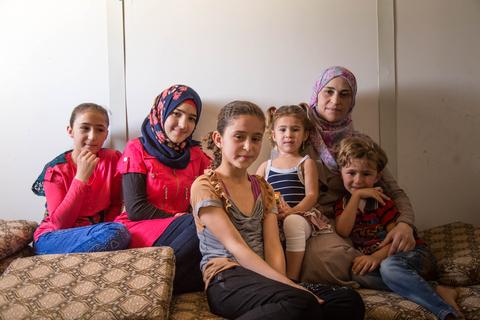 Formal UN figures show that some three million girls got married in the Arab region in 2015 before they turned 18, especially those living in situations of humanitarian crises.  Child marriage is a human rights violation, one that threatens girls' health, prospects and even lives. Yet in Jordan, Lebanon, and elsewhere refugee families are increasingly resorting to child marriage to cope with insecurity and financial hardship.
A 2014 study by UNICEF showed that nearly one in three of all registered marriages among Syrians in Jordan involved a child. That statistic does not include informal marriages, performed by sheikhs, which can also involve children.
UNFPA works with partners to raise awareness of the harms of child marriage and to help survivors of child marriage receive health and social services and legal assistance. But parents have the most critical role to play.