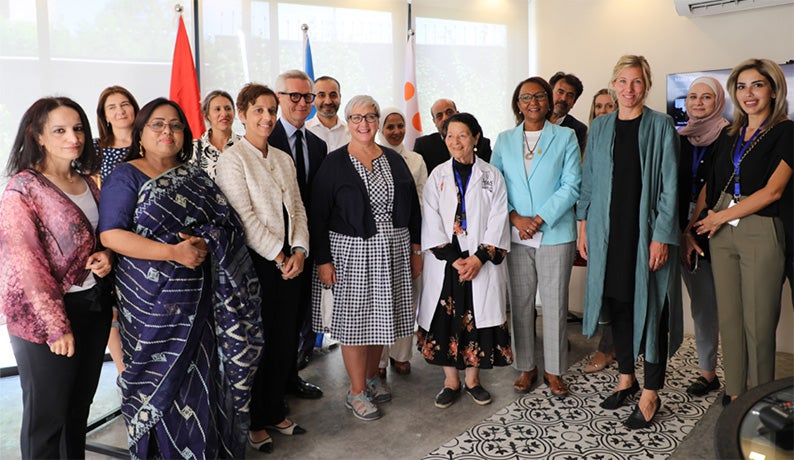 The first midwife in Jordan
27 June 2022 – Amman - Today, the United Nations Population Fund in Jordan, UNFPA, celebrated an exceptional woman and mid-wife, Ms. Munira Shaban.
"Mama Munira" was honored in 

recognition of receiving 

the Medal of Excellence from His Majesty, King Abdullah II bin Al-Hussein

, 

her outstanding contribution to Midwifery in Jordan and her service as a mid-Wife 

at the UNFPA-supported Sexual and Reproductive Health Clinic in Zaatari Refugee Camp.
"Munira celebrates her 50th year working as a nurse and midwife in Jordan. Today, she serves some of the most vulnerable women and families in Zaatari Refugee Camp, who live under extraordinary circumstances. We are proud that Munira is part of UNFPA's efforts reach its strategic goals for 2030, of zero preventable maternal deaths", said Ms. Ensherah Ahmad, UNFPA in Jordan Representative
The event was attended by H.E. Maria Hadjitheodosiou, EU Ambassador to Jordan, H.E. Alexandra Rydmark, Sweden's Ambassador to Jordan, H.E. Donica Pottie, Ambassador of Canada to Jordan, H.E Norwegian Ambassador to Jordan, Espen Lindbæck and Dr. Ya'rub Ajlouni, JIHASi CEO.
"Today, in Zaatari Camp, I feel honored to provide refugee women and families with the knowledge and awareness I gained over the years about sexual and reproductive health. At the age of 4-years old, I became a refugee when my family fled our home in Jerusalem. Life was difficult, but I was determined to pursue my dream of becoming a mid-wife and obtain the highest level of education in my field", said Mama Munira.
Born in Jerusalem in 1944, Munira lived with her family in the city of Salt in Jordan until she completed high-school. She went on to complete a 3-year training in Midwifery at the Augusta Victoria Hospital in Jerusalem. She returned to Salt, three years later, becoming Jordan's first certified midwife.
During the event, Mama Munira was presented a letter of gratitude from UNFPA Executive Director, Dr. Natalia Kanem, congratulating her on receiving this royal honor, and on her life-long service in preventing maternal morbidity and mortality for thousands of women and babies.
UNFPA believes that midwives following your legacy should have a greater role in leadership and governance to drive advancements in health policies and service deliveries. With such dedication, you proved to be an invaluable resource and a great role model. In her letter, Dr. Kanem said,