Earlier this June, JCO revealed its first Virtual Tour (VT), a tool that aims to simulate UNFPA locations, for viewers to get a feeling they are indeed in that particular venue without leaving the comfort of their homes.
This method is being used widely by many interties including museums, businesses, etc. in fact, due to the lockdown restrictions, many UNFPA venues were hard to reach especially for donors, media, visitors and the public, for that reason, UNFPA sought an innovative way to allow VT users to access its locations.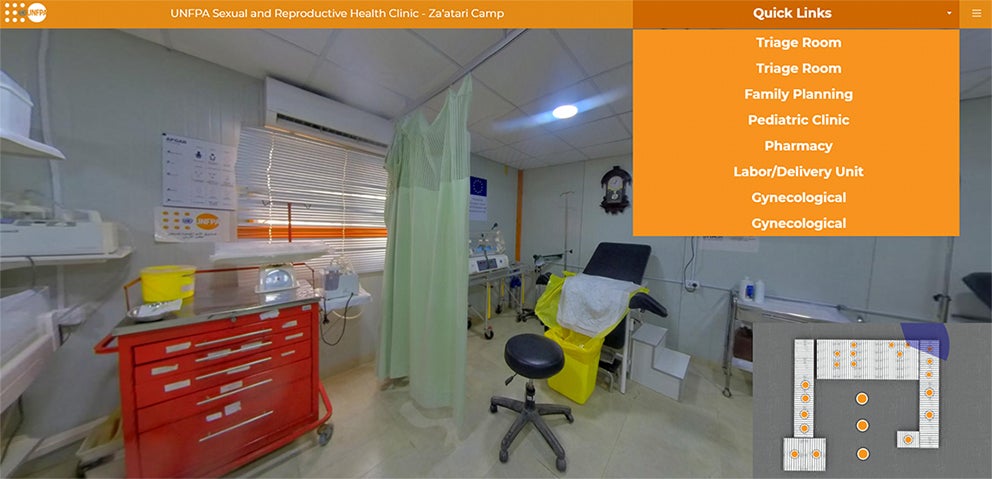 Hence, a virtual tour of Zaatari SRH Clinic and another for the UNFPA-Questscope Zaatari Youth Center were created. These are the first two locations in a series of VTs to follow that will cover other UNFPA-supported facilities. Through 360 lenses, the user can venture inside any facility accessing it while protecting the rights of patients and beneficiaries' privacy.
At each stop, a popup box appears with information about that area of location.
The need for such VT has risen after the lockdown, it will allow donors and media to have an insight about UNFPA programs. 

explained Enshrah Ahmed, UNFPA Jordan Head of Office.

 
It is also meant to maintain the privacy of the beneficiaries

she added.
Click here to view the Virtual Tour in the SRH Clinic in Zaatari Camp.
Click here to view the Virtual Tour in the Youth Center in Zaatari Camp.
####
Jordan Health Aid Society International (JHASI) is the national implementing partner of UNFPA/ Jordan for sexual and reproductive health sustainment at Zaatari Camp's Reproductive Health Clinic. EU Humanitarian Aid is the kind donor that supports the Clinic as well as the Women & Girls Safe Space in Zaatari Camp.