On the occasion of the International Day of the Girl Child and under the global theme for this year "Digital generation. Our generation"; the Gender-Based Violence Sub-Working Group (GBV SWG) in Jordan have collected a number of stories of girls and adolescent girls in Jordan who are working on bridging the gender-digital divide and advocating to ensure all girls have equal access to the internet, technologies and equal access to tech skills and opportunities.
Today, we celebrate their efforts!
Making a living out of a hobby
Story credit: Arab Women's Organization in Jordan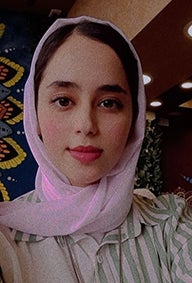 One day, Sura, 19, Jordanian girl, was accepted to participate in a photography course at one of the Arab Women's Organization centers in Irbid. She had always had an eye for photography, but was never properly trained. During the training course, she learned the basics of photography and the use of various photography tools by a number of professional photographers, which later brought her great Advantage, "I have benefited tremendously from this course, as it was my gateway to other fields," expressed Sura.
Because Sura has undergone the training, she was offered with a volunteering opportunity at Nawafth for Training and Sustainable Development. She was in charge of media coverage of all the training sessions held at their centers. Sura is grateful to the Arab Women's Organization, "I attribute my success to the training that equipped me and the other girls with the photography skills needed, it  could not have been possible without the opportunity that they provided me and other girls," she highlighted.
Ever since, Sura has continued her journey and has been working hard to learn new skills. Today, she is presenting radio programs at Sawt Al-Shabab studio, while utilizing  her photography skills to produce awareness- raising videos on issues affecting women and girls, such as violence.
Girls can achieve the impossible! I am indebted to the training I received, as it made me win the 3rd place in a video competition concluded Sura proudly.
Sharing knowledge through social media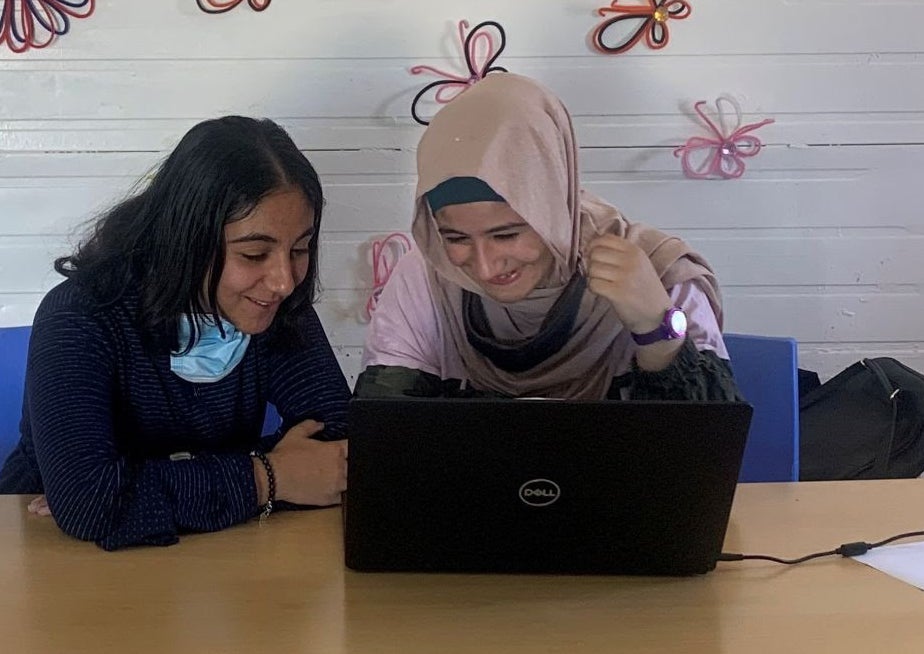 Story credit: Save the Children Jordan
Like many other adolescent girls, Dana and Lara, the 15 and 16-year old Syrian refugee girls living in Zaatari Refugee Camp have fled the Syrian war in 2013 with their families to look for a better future. 
The two sisters have always considered themselves as changemakers. From their love of becoming motivational speakers; Dana and Lara have decided to use the social media platforms and technologies to empower other girls by raising their awareness of Gender-Based Violence risks especially Child Marriage. Dana and Lara believe that social media platforms and technology are really important and essential nowadays; especially during COVID-19, saying:
Without technology and social media, girls will not be able to learn or communicate with others especially during lockdowns
Lara's and Dana's favorite social media platform is TikTok. Through filming videos via this platform, they have been able to lead initiatives such as conducting a series of videos on the consequences of Child Marriage and other forms of GBV on adolescent girls and on the community as a whole. "I love raising awareness through tiktok. It is challenging but it is also fun!" Says the passionate 16-year old Lara.
Those two brilliant girls became a voice to other girls in their community, as they started to encourage other girls to use those platforms and speak up about girls' challenges! 
Moreover, they also focused on raising the awareness of parents on the benefits of social media platforms and the importance of girls' equal access and use of those platforms. "We need to continue reminding parents that girls must have equal access to the internet as boys have." says Dana. 
"Yes, social media has many benefits but we need to be aware of how to use it and protect ourselves from any of its risks" concluded Lara.
Building back better
Story credit: The Institute for Family Health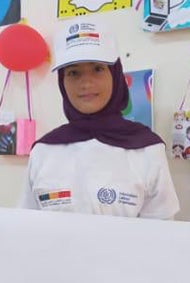 Iman, the 14-year-old Syrian refugee adolescent girl, was a school drop out before she started working in the agriculture sector in Mafraq like many other girls her age. She worked for 6 hours a day under the excruciating sun, or in the cold and other extreme weather conditions to earn a living and help out her large family. Nonetheless, she dreamt of going back to school to continue her education and have better career opportunities. Until one day, an NGO targeted Mafraq governorate with the goal of withdrawing child labor namely from the agricultural sector. Ultimately, they reached out to her, so she stopped working on the farm and went back to school.
During her journey, she met with the Institute for Family Health (IFH) case worker, who provided her with psychosocial support and awareness-raising sessions on gender-based violence (GBV) topics, recreational activities. Also, through IFH, she learned how to browse the internet safely and protect herself from online risks associated with using laptops and accessing E-learning during COVID-19 pandemic and consequent lockdowns.
Today, a different future awaits Iman, she is back in school, which will give her better career choices in the future. Additionally, she is technically-empowered and is able to protect herself and others from potential online risks.
 It is my right as a girl to learn and use technology with ease without any restrictions concluded Eman.
Promoting girls participation within the sector of technology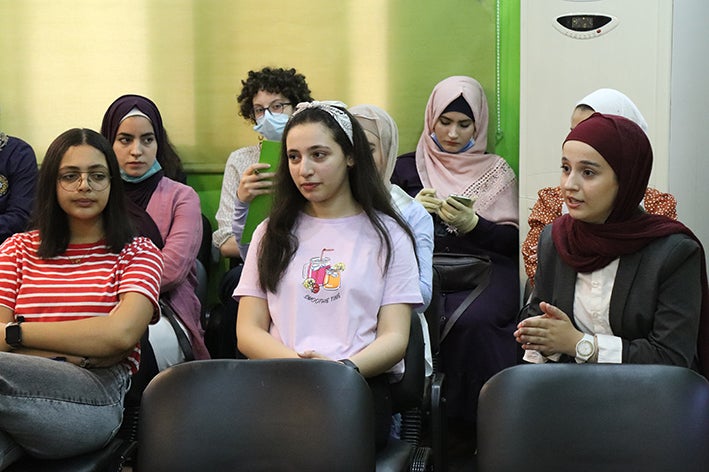 Story credit: Plan International in Jordan
Sixty females ages 14 -24 participated in Plan International's "SheHack" event in partnership with Robotna Space & the European Union to empower and enhance adolescent girls IT skills and opportunities; however, two of them have created miracles. 
Zaina and Leen, both Jordanian adolescent girls have been awarded with a technical training for three months and a financial scholarship award to develop their own IT project. The girls haven't stopped here, this has encouraged them to take part in the Arab Trophy Tournament, an event that is usually dominated by boys and young men. With the two girls on board, their presence challenged the gender stereotypes associated with such conventions. Moreover, to everyone's surprise Leen won the first prize in the competition. Zaina on the other hand became appointed as the best coder and designer during the event. Two girls, with big dreams can change about anything, but for now they have started with gender stereotypes.